0x03 And we start our journey

Jul 15, 2020

Jun 17, 2020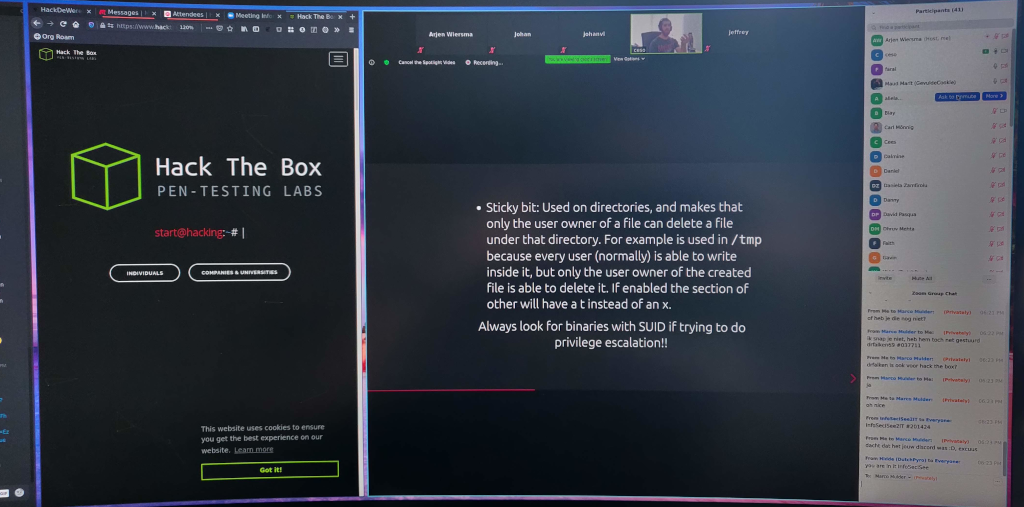 The June meetup is a wrap! Our community is growing and we are getting to know each other quite well. A very cool thing to see is that the same people keep showing up, most have been around since the 1st meetup back in April!
The meetup started off with a presentation by Leandro (ceso). After passing his OSCP certification last month I asked him to share some of his thoughts on what you should do to get started. He talked about the basic techniques you need to master in order to be successful in the Hack The Box labs and the basic differences between Hack The Box and the OSCP certification.
The video is available on YouTube.
After the presentation a short break brought us to a demo segment. This was the first time we actually gave a demo during the meetup. Our community member Hidde (@DutchPyro) used PwnBox, a browser based version of ParrotSec OS, to take us through the steps to root Curling. Several things went horribly wrong and the community jumped in with thoughts on how to fix it.
After the demo a length questions & answers segment ensued. We talked about how one can identify encoding techniques to finding scripts that can be used to retrieve information during enumeration phases.
The demo and the Q&A was recorded as well and is available on YouTube.
Next month one of our other community members will be presenting. V1s3r10n will be sharing his techniques on finding bugs worthy of a CVE.
Our next meetup will be on July 15th, you can already register for it.